Why Buy Green Products From Stellana?
Sustainability forms an integral part of Hexpol's business model. Reducing the impact on the climate of raw materials, production facilities, and products, as well as being prepared for the upcoming climate challenges on our global supply chain, are priorities in the strategic plan. In recent years, interest in green products containing bio-based or recycled materials has been increasing in the market and among our customers. Creating a more circular economy is a strong driving force for Hexpol and all our business partners. As part of the Hexpol group, we endeavour to drive sustainability throughout our operations. Our focus on sustainability will always continue and our target to reduce CO2 emissions by 75% by 2025 is affirmative. Besides, Stellana has been pushing our limits and driving innovations to meet our customers' expectations and to be one of the pioneers to develop green products in the industry. We have been working on implementing green products in our daily production in recent years, especially in rubber tires, injection moulding, and polyurethane wheels.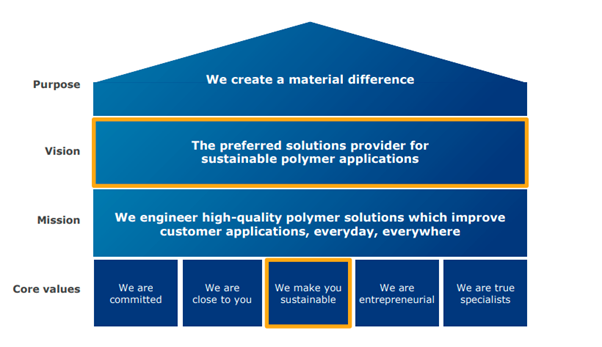 A green product is a sustainable product designed to minimize its environmental impacts during its whole life cycle and even after it's of no use. It is always identified by having two basic goals – reducing waste and maximizing resource efficiency.
Improvements in raw materials during green tire production have been responsible for advances in rolling resistance and sustainability. Many existing materials can be replaced with circular or renewable materials. The pace of innovation is high, and a realignment between customers and suppliers is in progress.
The demand for green products has been rising, as it requires consistent development of new technologies and innovations, we have put a large investment in research and development (R&D) as well as recycling.
In Sri Lanka, we understand the environmental impact throughout a tire's whole life cycle, from manufacturing, tire usage, and disposal afterward.  Stellana Sri Lanka, our largest rubber products manufacturing site, contributes to the circular economy through material development without compromising on the performance of the products. We have been using bio-based and recycled raw materials in production, recycled elastomers refer to green carbon, globe waste, tire friction, and wood ashes. Biodegradable material is made of plant base materials, such as natural rubber, natural resins, and pine tar.
Injection Moulding Of Recycled And Bio-based Materials
Stellana products are supplied globally to OEMs of hand pallet trucks, caster wheels, and other material handling applications. The introduction of sustainable recycled and bio-based materials would be a game changer for the industry creating a new standard for sustainability for wheels and rollers in the material handling industry. The backbone of the bio-based material comes from rice husks which are a by-product of the harvesting process. The rice husk is a true biowaste product that has no other use and is typically burned due to its limited commercial value.
Stellana, partnering with RheTech, has developed new wheels with bio-based materials for Stellana's customers, it maintains the same high performance while not increasing the cost. On top of that bio-based materials offer better recyclability than fossil-based options after they reach the end of their lifespan. Stellana now is able to apply bio-based materials in our injection molding productions in Sweden, China, and Sri Lanka.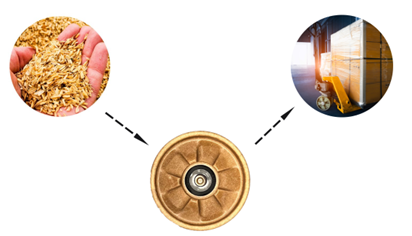 Rubber Tires: Recycled Raw Material Equals High Rolling Resistance?
The most common materials used in manufacturing tires are carbon black, natural rubber, synthetic rubber, etc, engineers at Stellana are always seeking better solutions to make it greener, 62 % green material is added to our rubber tires. Some customers might have concerns about the rolling resistance, does it increase the rolling resistance by adding green materials? The answer is no, and on the contrary, it improves a lot. Our technology is mature to a level where environment-friendly tires provide low rolling resistance without disrupting the whole tire performance.  In another way, low rolling resistance consumes less energy, and it reduces CO2 emissions to the environment. Over 1,5 million wheels and tires/year were distributed all over the world from Stellana Sri Lanka. We earn our reputation by providing high-quality green products and will always continue to develop with a smaller carbon footprint.