The HEXPOL Group is thinking about the future. We have been doing so since 1893. 
As one of the leading polymer compounding suppliers in the world, we are acutely aware of how we conduct our business.
It starts with lifecycle impact analysis of the materials and production processes we employ. Our long-term approach is a systematic one which involves numerous stakeholders, certified management systems, sound business ethics and transparency. Our efforts are followed up by Group management, internal and external audits, and in-depth analysis to ensure compliance with the current legislation.
Our progress is clearly communicated through the Global Reporting Initiative, which forms the foundation of our Sustainability Report and extends to separate climate-impact reports in accordance with the Carbon Disclosure Project (CDP) and in-line with the United Nations Global Compact. It is also monitored closely by independent institutions and investors.
The environment, occupational health and safety, social responsibility and business ethics are important components in the day-to-day work and long-term strategic planning. Learn more by accessing the related pages.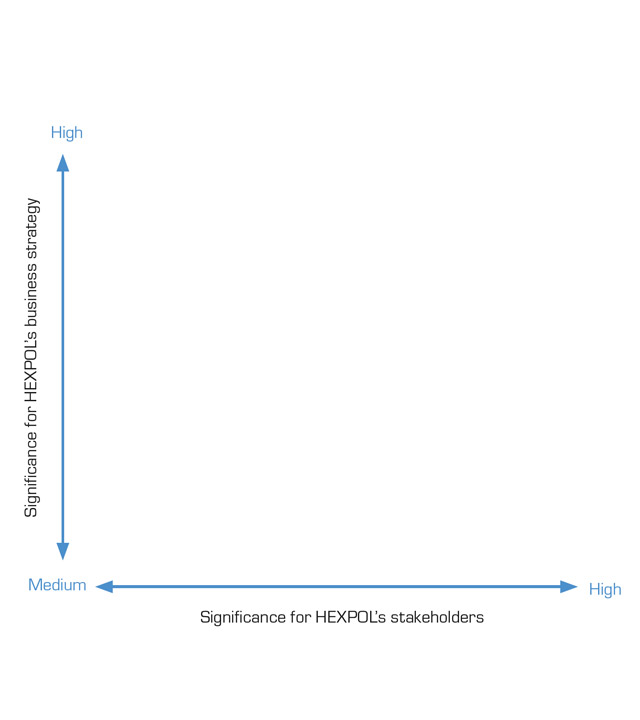 Analyses of risks and opportunities, combined with requirements and expectations from a range of stakeholders, provide the basis for the Materiality Analysis. The Materiality Analysis provides insight into which issues are important to our stakeholders and for the Group's business strategy. As a background to the overall analysis, feedback is regularly sought from the Group's companies.
HEXPOL's contribution to increased value
Customers - Aims, requirements and expectations
HEXPOL is convinced that being ambitious in sustainable development reinforces its relationship with customers. Many customers demand a Code of Conduct and certified environmental management systems. Other requirements concern the phasing out of hazardous chemical substances and sustainability issues being implemented in the supply chain.
With cutting-edge expertise in polymer materials and solid knowledge of applications, technical support and constant development, we strengthen our customers' competitiveness in their markets. Our sustainability efforts are assessed regularly by customers. Last year, surveys and audits were conducted at 20 (19) facilities. The outcome was favourable and the companies received positive reviews of their efforts.
It is important that the Group retain and develop employees, and also attract new ones. For employees, health, safety, financial compensation, personal development, social conditions and good business ethics are important.
During the year, HEXPOL had 1,879 msek (1,994) in personnel costs. The accident rate declined over the year. The number of training hours was 98,500 (80,000). Some 3,000 (2,600) employees participated in development interviews. Surveys regarding employee satisfaction in the workplace gave good results.
HEXPOL strives for open and long-term relationships with its suppliers. The objective is to guarantee suitable quality, financial stability and active sustainability work for both parties.
During the year, the guidelines on sustainable development for suppliers were applied. Over the past three years, more than 1,200 suppliers of raw materials have been assessed.
For our shareholders, growth and dividends are central in generating value. Integrating sustainability issues into the business strategy reduces risk and generates business opportunities, for example through the development of environmentally-adapted products and through resource-efficient production and investment in environmentally adapted technologies.
The dividend to shareholders amounted to 792 msek (792) and, over the past five years, HEXPOL's Class B shares had a total return of 13 percent. During the year, dialogues were conducted with investors and the Group was evaluated by several independent institutions. We facilitate such analyses through transparent sustainability reporting.
Social commitment is an important aspect and is expected by local communities in which the Group operates. As a global company, the Group is expected to take measures contributing to national and global goals for sustainable development.
As described elsewhere in the Sustainability Report, the Group's companies contributed in so many ways to local communities. HEXPOL's tax expense for 2021 amounted to 673 msek (446).
Compliance with legislation is essential for HEXPOL.
In 2021, some minor violations of emission conditions and other environmental and occupational health and safety legislation occurred. The infringements resulted in marginal penalties and did not result in any further actions by the regulators.
Every year we present information in a transparent and informative way. The report provides insights into risks, opportunities, objectives and achievements, both short and long-term. Our sustainability report also provides information about our commitments in-line with the UN Global Compact.
Our Sustainability contact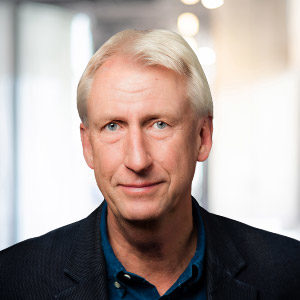 Director Sustainability Affairs