IAM Robotics, creators of the world's first autonomous mobile manipulation robot, has found a niche in e-commerce order fulfillment. Its robots use highly advanced computer vision and perception technology combined with an articulated robot arm on a mobile base to autonomously navigate warehouse aisles, picking and transporting products just like a human.
IAM Robotics turned to us for our polyurethane expertise. The company tasked us with the job of providing a wheel material suitable for the typical usage and environments of their mobile picking robots, named SwiftTM. The company designs their robots to work around the clock, continuously moving on the floors of warehouses and distribution centers. Its charging system only requires a 30-second change about once a shift, avoiding any lengthy downtime. The continuous operation made localization a key consideration when selecting wheels for the Swift robots. 
Swift works like a human order picker, moving through inventory aisles, finding the right products, picking them into a tote, and then transporting that tote downstream for packaging and shipment.
Picking
The robot sports a six-axis articulated arm engineered with highly advanced computer vision and perception technology. One of the fastest in the industry, its arm can grab from both sides of an aisle and reach up as high as 7 feet or as low as 2 inches from the ground. 
Mobility
Swift's high-powered mobile base is one of its primary differentiators in the industry. Several picking and grasping robotic arms exist on the market but none are married to an autonomous mobile base to move, pick, and carry items, like Swift. Its base also offers convenience through a hot-swappable battery, which requires only one person 30 seconds to change out. This feature keeps Swift robots working 24/7 without the need for breaks.
Obstacle Avoidance
Picking and mobility are the machine's primary functions, but it also is engineered for maximum safety as it continually looks to avoid obstacles. Swift has multiple 3-D cameras onboard providing wide fields of view, making it one of the most advanced detection systems in the industry.
After becoming familiar with the robot and its usage, we recommended to IAM Robotics the Smoothy® material. Our Smoothy® products are uniquely manufactured to a nearly perfect OD, giving them a virtually perfect cylindricity.
This technology was attractive to the roboticists at IAM Robotics because of the effect it would have on the robot's localization. Localization refers to the robot's ability to accurately recognize its position within the environment. Picking machines require unparalleled accuracy, and their localization is no exception. While it may be hard to believe, the slightest irregularities in the wheel's profile can impact on the machine's locational accuracy. The smallest imperfection would be magnified revolution after revolution, especially in Swift robots, which are designed to run continuously.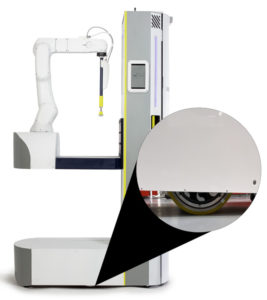 At Stellana, we solve problems. Whether our customers would like to find a wheel for a new product or find a better wheel for an existing product, we are always happy to bring enhanced performance and efficiency to their application.
Stellana is the leading global manufacturer of polyurethane, rubber, thermoplastic, and TPU wheels. With more than 60 years of industry experience, we are the material handling industry's largest global supplier of polymer wheels. Strategically located in Sweden, Germany, the United States, China, and Sri Lanka, we offer a comprehensive range of wheels and tires.
IAM Robotics makes autonomous mobile manipulation robots (AMMRs) capable of fully automated order picking and transportation in fulfillment centers and warehouses. Founded in 2012, the company is comprised of the best and brightest robot and automation experts, tinkerers, and problem solvers, who are laser focused on delivering innovation and operational value that is transforming the material handling industry. IAM Robotics is based in Pittsburgh, a leading region for robotics innovation, invention, and discovery. To learn more about IAM Robotics, visit www.iamrobotics.com.