Picking the Right Poly: Which Stellana product is right for you?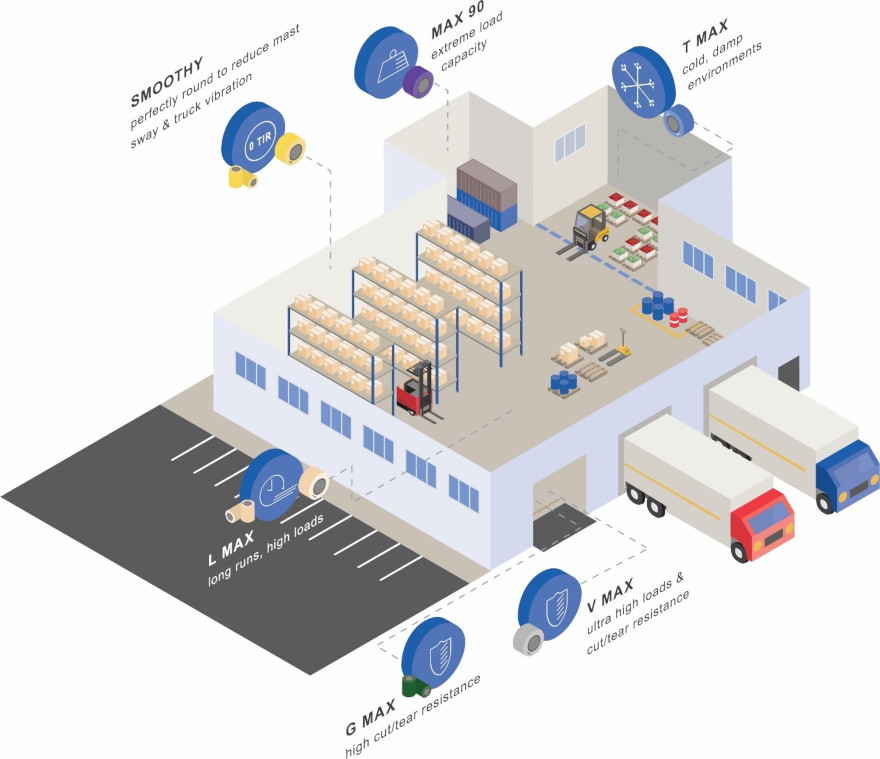 At Stellana, we manufacture custom wheels, tires, and profiles from an assortment of different polyurethane bases. Our capabilities allow us to create unique, custom solutions. With the ability to manipulate shape, size, hardness, and cosmetic characteristics we can create most of the structures you can imagine. Despite this, throughout our history, we have established several product lines to excel under many specific warehouse conditions.
Polyurethane Wheels & Tires
Forklift wheels and tires are not one size fits all. The three main categories that exist today are polyurethane, pneumatic, and rubber. Polyurethane wheels and tires are one of the primary products manufactured at Stellana. Polyurethane exceeds in indoor use compared to rubber.
Polyurethane is a versatile material that is known for its favorable qualities such as durability, chemical resistance, and overall resilience. Our process allows us to mold and machine polyurethane compounds for nearly every type of service. Polyurethane's chemistry can be modified to accentuate the desired material properties for each unique application.
Different structures are suitable for differing conditions. For instance, certain formulas are more tolerant to heat buildup or could offer higher debris resistance. Stellana engineers investigate and manipulate numerous characteristics to provide the best solution under each condition.
Walking Through Your Warehouse
Walking through your warehouse is an important step when identifying the wheels and tires for your needs – allow us to join you!
The operating environment and application are two of the most important factors when choosing polyurethane wheels and tires. Floor conditions, temperature, moisture level, and the presence of oils or chemicals are important factors to study when evaluating the environments.
Beyond the environment, you must also consider the application. Recognizing the typical load requirements (weight and speed), run length, and frequency will narrow your search.
Many of our wheels and tires are made of hot cast polyurethanes. These solid, durable materials are formulated into machinable structures that offer excellent load bearing capabilities, cut and tear resistance, low heat build-up, and abrasion resistance. They are also non-marking, lightweight compared to metal alternatives, and support higher load capacities than rubber tires.
Understanding the unique conditions and demands at your facility is how to reach your equipment's ideal performance. Our product lines are made to be the best and only differ based on the operating environment and material handled.
Stellana Polyurethane Wheels and Tires:
L Max products consist of an application specific polymer compound designed to excel in long run, high load environments. The L Max is one of the hardest working families with its ability to excel under a wide range of needs.
Max 90 accommodates even higher load conditions than the L Max family. These tires were specifically engineered to safely handle high loads at high speeds while delivering good braking, comfort, and traction compared to higher durometer compound tires.
Smoothy 90 & 95 tires and load wheels are engineered and manufactured to be perfectly round and smooth. Zero TIR (total indicator run out) technology delivers uniformity and roundness unique to the industry. Smoothy products are the ideal solution for order pickers and reach trucks offering minimized truck vibration, mast sway and error build up for a safe, efficient ride. To learn more watch our Smoothy Video.
T Max is made to offer better performance than a standard polyurethane tire in damp, cold environments through excellent traction and resistance to cut/tear and debris.
V Max offers an unrivaled combination of high speed, high load, cut/tear, and chemical resistance. This "all in one tire" perseveres in environments with rough flooring, dock plates, and other tough conditions. This compound provides unparalleled cut/tear and chunking resistance and exhibits a tolerance for ultra-high loads and speeds.
G Max load wheels offer exceptional cut and tear resistance in an application specific polymer compound for a wide variety of applications. The unique polymer properties of G Max provide excellent resistance to chunking, tearing and flat spotting. Excels under tough floor conditions, dock plates, expansion joints, and floor debris.
There are endless possibilities when it comes to polyurethane, but we have spent our days perfecting mixtures for several of the most common and demanding needs the industry faces.
We offer a variety of sizes, durometers, profiles, and tread treatments. Be sure to watch for the #PickingTheRightPoly hashtag for continued tips and product information.