What makes Stellana's safety culture different?
Safety is a topic that is being heavily discussed by the material handling industry this month. Tuesday, June 11th marks National Forklift Safety Day. This day provides a chance for forklift manufacturers to highlight proper forklift usage, the value of thorough operator training, and the importance of regular equipment checks. While this is an event intended to raise forklift safety awareness, this day opens the dialogue for greater safety awareness in all daily activities. At Stellana, safety is a yearlong commitment practiced every day in all operations. After a recent plant-wide safety inspection, we find it timely to discuss how unified safety practices can create the best work environments.
To retain worker's compensation insurance, we must receive quarterly inspections. During this time, losses from the year are reviewed, and the facility is toured to evaluate the practices in place, workstation ergonomics, and any other changes to be made. At Stellana, our goal is to have zero recordables. Employee safety is our top priority, and while insurance companies incentivize you to keep the number of incidents down, we truly believe in providing the highest level of employee safety. Joe Bansemer, our loss control representative who completes our evaluations felt that we are on the right track to ensuring the safe, committed environment we strive for.
As a testament to our efforts, Stellana received a 10 out of 10 customer rating from the insurance agency. That probably sounds like a good number as is, but Joe also said this is currently the only 10/10 rating that he would be able to give. So, what differentiates Stellana from the other companies being evaluated daily?
For one, our proactive approach puts a heavy emphasis on prevention. Additionally, management's level of involvement has led to a top-down safety approach that has proven to enhance employee safety. The commitment and cooperation they show are unique to his experience. Through the history of our evaluations, our openness to change, prominent safety culture, and focus on continual improvement have led to fewer recordables and recurring problems. Stellana President, Mark Shea, said, "I am very proud of this report. This rating supports the efforts being made and the importance that safety has to us every day, all year long."
The Practices That Set Us Apart
Many of the methods in place to promote safety and reduce injury can be credited to Pedro Barajas, EHS Manager at Stellana. Several steps towards improving ergonomics are made to minimize injury and the tasks or movements that can cause strain, repetition, crushing, or punctures. Pedro is constantly evaluating workplace layouts and optimizing work cells to maximize the safety and comfort of all employees.
One work cell that particularly impressed Joe was our stamping area. In this area, employees stamp logos and text onto individual parts. Since the last inspection, a few sources of improvement were identified internally. Generally, it is recommended that you keep all tools and parts at ideal lifting heights to prevent unnecessary, repetitive bending.
Previously, the product being stamped was being stored closer to the floor and workers were required to bend below an optimal lifting height. To improve the ergonomics at this station, the parts have been placed on a lift and brought up to a better height. In conjunction with this, the sprayer tool that is constantly being used was placed on a balancer to reduce wrist strain and the fatigue caused by gripping all day. Anti-fatigue mats were placed to cover the floor in order to minimize shock and the stress experienced from being on your feet all day. The station is kept in an immaculate, orderly fashion addressing many different aspects of safety. Joe was impressed with the initiative our staff members took to identify problem areas and improve the overall safety of their work cell.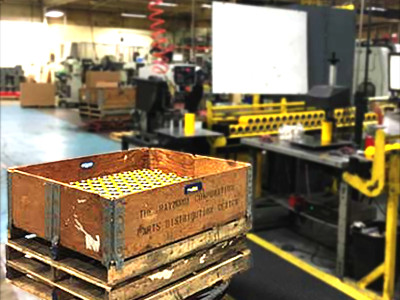 When it comes to safety, we all have to walk the talk. Increasing safety awareness is the first step, but living it every day is what really counts! From enforcing proper forklift usage to supplying strategically placed PPE stations, unified safety practices will work together to create a better work environment for all employees. Proactive thinking will reduce the risk of injury and contribute to a healthy safety culture in the workplace.
A stellar rating can be achieved, but this is only one number capturing a moment in time. When it comes to safety, the work is never done, and we all have something to work towards! Comment below to share your top workplace safety tips with us to help everyone receive a rating they can be proud of.
DID YOU KNOW Stellana's products even work to improve safety? Our polyurethane tires are engineered to improve operator safety and comfort. Stellana tires carry high loads at high speed yet retain the positive attributes of low durometer materials, including traction, braking, steering, better comfort, and reduced vibration and noise.