Understanding the Types of Rubber Tires Used Within the Material Handling Industry
At Stellana, we are most well-known for our polyurethane wheels and tires, but we also manufacture rubber tires. Let's take a look at the different kinds of rubber tires available and how they are used within the material handling industry. Every tire material and structure has its pros and cons. Each one has an intended use that varies based on truck type, environment, and application.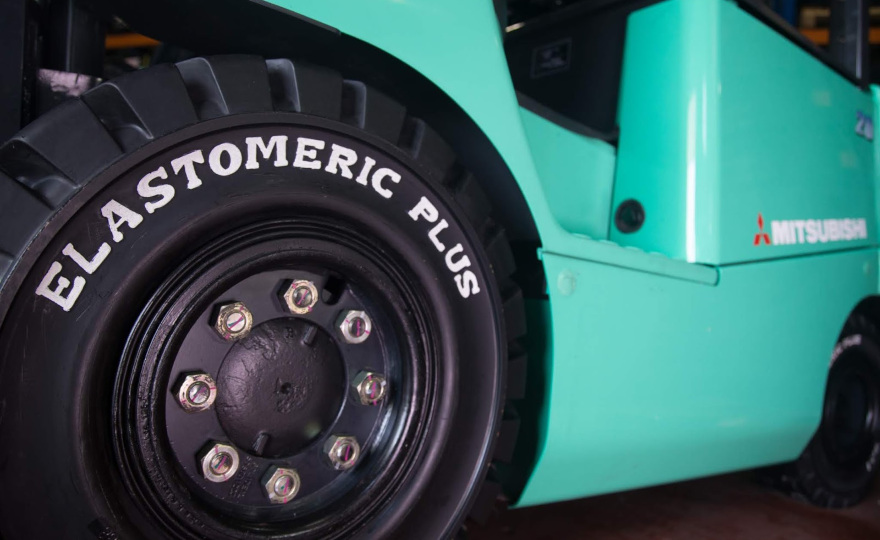 Polyurethane tires fill an essential gap in the material handling industry. These tires offer superior performance to rubber in many instances. The lightweight material provides durable abrasion and wear resistance, load-bearing capabilities, and impact resistance. These dynamic properties lead to stronger resistance to splitting, tearing, and chunking in comparison to rubber. This material is only suitable for indoor use, unlike rubber, but it is known to deliver a much longer lifespan. These tires also provide excellent traction and low-rolling resistance which enhances stability and extends battery life.
 These tires are primarily used in North America, whereas other regions more commonly use industrial resilient tires. These tires are constructed by molding solid rubber on to a steel band. The name POB, or Press-On Band, stems from the band that is pressed onto the hub. Depending on the application requirements, smooth or traction tires are available. They are also available in black or non-marking versions.
Industrial Resilient Tires
Solid rubber is used to construct solid pneumatic forklift tires. Similar to the POB tires, they cannot be punctured or deflated. Resilient tires are not molded to a steel band but instead are made up of a layered structure that often includes a tread layer, cushion layer, and reinforced base.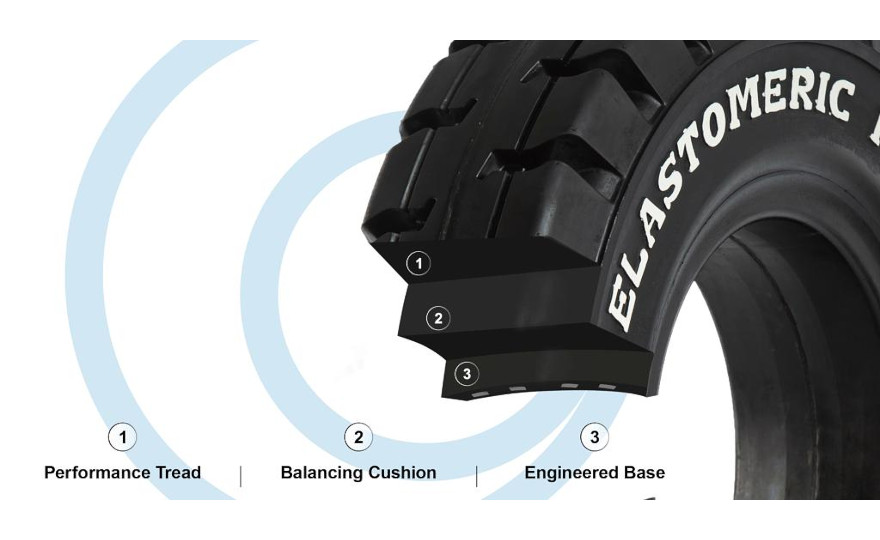 For example, our Elastomeric Plus tires consist of a high-performance tread, super elastic cushion, and a hard, reinforced base. The cushion is a thick, elastic layer that mitigates heat to extend the life of the tire. The base compound is reinforced by staple length fibers and is extremely hard. The hardness is achieved by the use of a special phenolic resin, which is non-thermoplastic, thus eliminating softening during service. The steel beads used in our tires contribute to the tire's overall stability. The reinforcements provide strength while allowing for flexibility to prevent the tire from rotating on the rim.
Pneumatic tires are not made or manufactured by Stellana and Elastomeric. These tires get their name because they are filled with compressed air like car or bicycle tires. The air-filled structure provides greater operator comfort, but at the compromise of uptime. Solid tires significantly reduce downtime in comparison to pneumatic tires because they cannot be deflated. Solid tires are associated with higher upfront costs due to the increased amount of material used. With that being said, the cost of ownership for the solid tires should be lower as they have a much longer lifetime.
Pneumatic tires are acceptable in indoor and outdoor applications, but only where sharp objects are not present. Cushion tires are adequate in both indoor and light outdoor applications – without the fear of deflation. The rubber can be made in either traction or smooth treads, but they are best suited for flat surfaces. Resilient tires are arguably the most durable of the three. These tires stand up to sharp debris, making them adequate for more demanding applications.
Rubber tires are commonly available in non-marking materials. These materials allow you to keep your floors clean and protected but at the cost of a few tradeoffs. These tires have a shorter life span than polyurethane, which is also a non-marking material. Additionally, a vehicle that is equipped with non-marking tires should be earthed or grounded in flammable locations because they are prone to cause static electricity.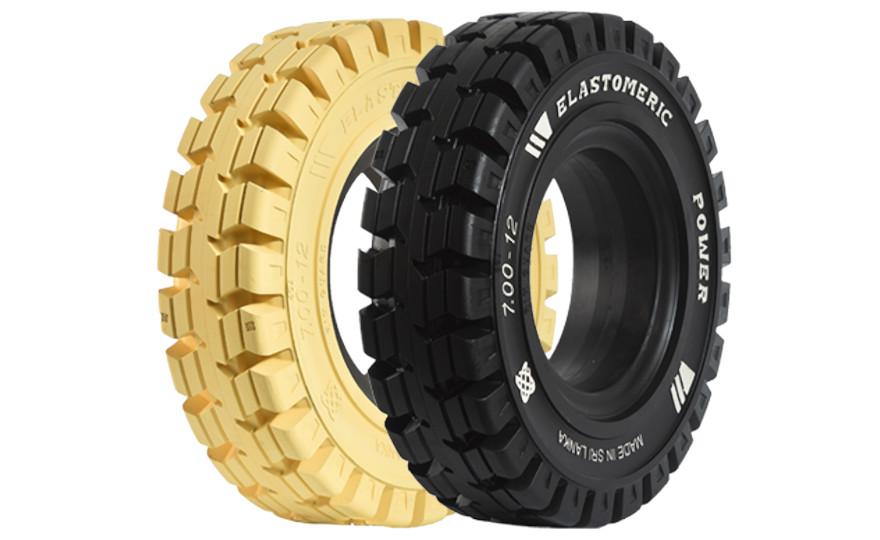 How does rubber compare to polyurethane?
Polyurethane is a very dynamic material, but there are instances where rubber tires are the best choice. Poly tires do not hold up as well to rough floors, whereas rubber tires can be used in indoor and outdoor environments. Their versatility, comfort, and lower costs make them a viable choice for many applications. Common environments for resilient rubber tires include factory, distribution and manufacturing settings.
For care tips, tire selection advice, or anything else, feel free to contact us at info@stellana.com.
Stellana is the leading global manufacturer of polyurethane, rubber, thermoplastic, and TPU wheels. With more than 60 years of industry experience, we are the material handling industry's largest global supplier of polymer wheels. Strategically located in Sweden, Germany, the United States, China, and Sri Lanka, we offer a comprehensive range of wheels and tires.