Going Beyond the Tire with Safety
Happy National Forklift Safety Day! Forklift safety is something to keep in mind throughout the entire year, but with the help from the International Truck Association (ITA), we can utilize this day as a reminder and learn something we didn't know about forklift safety along the way. Throughout this week, ITA will be connecting with policymakers and government officials in improving forklift safety laws while manufacturers and dealers will be taking the opportunity to retrain their forklift operators. Did you know though that forklift safety extends far beyond the people involved but to the equipment itself? The tires we use on our forklifts can make a huge impact on safety. 
A tire is not just a tire when it comes to the safety of your employees.
Why?
In today's fast paced economy, products are being shipped out faster than ever before with shorter and shorter delivery times. Material handlers are expected to keep up causing them to move towards harder tires. Harder tires can better handle speed and load capacity, but they compromise on ergonomics and safety. Harder wheels transfer ride vibrations to the operator and decrease the vehicle's effectiveness with steering, traction, and braking. Stellana believes there is a better way than a compromise.
It is our belief that the safest and best tire for an application is the softest tire that meets the load requirements.
Load Requirements = Total Weight x Speed x Up-Time
Instead of creating good, better, and best tires that focus only on load requirements, Stellana creates a tire line made of only the best and differ based on the environment and material handled. We have a tire available perfect for produce and freezers applications with high traction. We also have a tire fit to carry chemical or acidic hazard materials; just to name a few. Below is a tire material selection guide to get you started in choosing the right tire for your needs.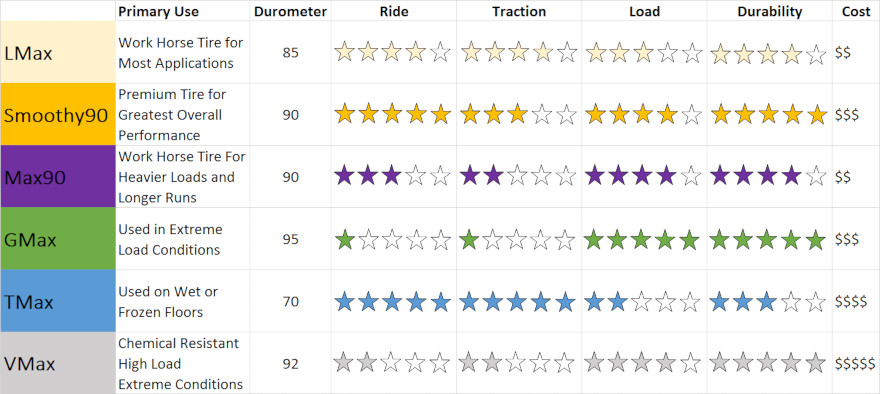 For more information about our materials, please visit our website 
www.stellana.com/us/
 or connect with our team if you have specific questions.
Sales Manager – OE & Key Accounts
Dave Brocklehurst | 814.706.6520
Sales Manager – Aftermarket
Vannessa Neubauer | 262.348.5520
Sales Manager – General Industrial
Tim Rodgers | 814.688.1989
Engineering Manager
Kevin Keese | 262.348.5502
No matter the tire selected, all our tires can be trusted through their use of high grade raw materials and consistent processing.
Thank you
ITA
 for this great opportunity to promote safety. This year marks the 5th Anniversary of National Forklift Safety Day. Be sure to follow and like them on 
Facebook
 and 
Twitter
 @IndTrk. Also, utilize the hashtags 
#NFSD18
, 
#NationalForkliftSafetyDay
, and 
#IndTrk
 to keep up with the activities that are taking place throughout the week.