Stellana Provides Wheels for Hyperloop Competition
Travel is no longer a question of if, but when. We travel daily through a variety of modes of transportation – car, bus, plane, etc. The question now is, "Are we traveling in the most efficient way?" Hyperloop is a conceptual fifth mode of transportation consisting of levitating high-speed capsules traveling through low-pressure vacuum tubes. The concept was introduced by Elon Musk in 2013, through his company SpaceX, and aims to provide a cheaper, more efficient, and more sustainable alternative to existing methods of transportation.
To speed up development and encourage innovation in the younger generation, the SpaceX Hyperloop Pod Competition was created in 2015. The competition is an open challenge to student teams across the globe to design and build Hyperloop test vehicles. Teams compete for the ultimate prize of performing a high-speed run in the mile-long Hyperloop system in Hawthorne, California.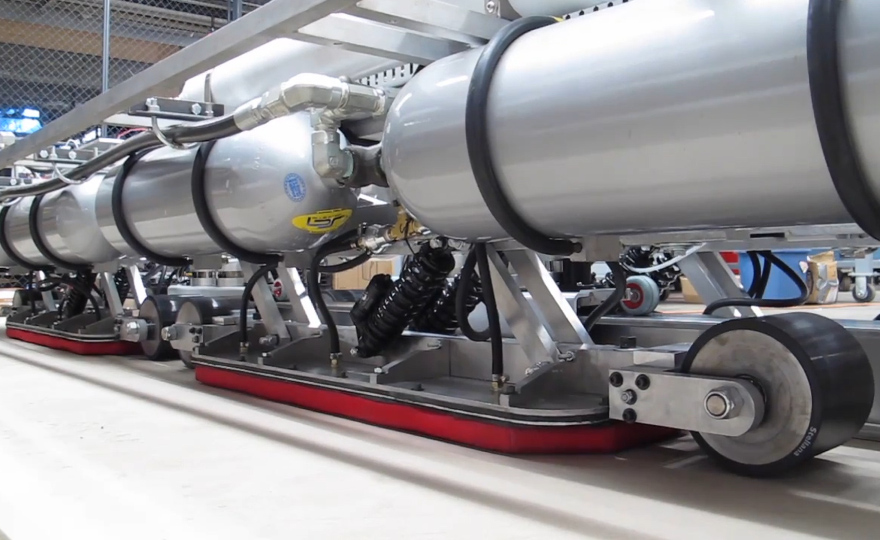 Teams throughout the world competed and Stellana was able to be a part of the success story of Paradigm, an international team consisting of students from Memorial University of Newfoundland & Labrador in Canada and Northeastern University in Boston, Massachusetts. With the creation of their Hyperloop vehicle, Paradigm took advantage of Stellana's expertise by incorporating Stellana's wheels. If the Hyperloop system ever lost pressure, disrupting the vacuum created, Stellana's wheels would create stabilization while slowing down the vehicle from high speeds. Even though the vehicle is created with the intention of not touching the ground, Stellana plays an integral role as a safety feature.
Paradigm took second place at the second competition in August of 2017 making us the fastest team in North America and the second fastest in the world. We are now preparing for competition three, which is scheduled to take place next summer. Stellana's polyurethane tires may be known more in the Materials Handling industry with forklift application, but hold unlimited possibilities as shown through Hyperloop and SpaceX. If you dream it, we can get the wheels turning.